Recent News:
Sunday 24th February 2019, 5.00pm. Performance of Allusions for clarinet solo by Elias Rodriguez at the Fondation des États-Unis, (Grand Salon), 15 boulevard Jourdan 75014Paris.
---
Saturday 16 February 2019, 3.30pm. Performance of Sitting in the Ruins at Conservatoire Municipal W.A. Mozart, 7 passage de la Canopée, Paris 1er.
---
Fanfare for Orchestra released by Radio NZ Composer Sessions;
https://www.radionz.co.nz/concert/programmes/sounz-recordings/audio/2018666586/nigel-keay-fanfare-for-orchestra
---
Premiere of Nocturne for baritone saxophone and double bass, Saturday 7th April 2018, 8pm, Saint-Merry, Paris 4ème. Ensemble Traces d'Aujourd'hui.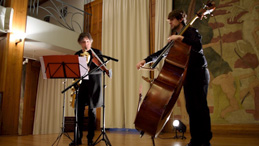 ---